Whales, sailing boat and SUP! Now you have the opportunity to join us for a trip of a lifetime! You will meet the wild Orcas, Humpback, Finwhales and Sperm whales. If you want you can also meet the whales from the SUP board together with a guide. In the evening you will see the magical northern light. We are cooperating with Ægir Expedition and their crew. Ægir has been sailing for many years in the artic and are all well experienced sailors. Kari Schibevaag will be your whale and northern light guide, she will teach you all there is to know about the whales and the artic. You will "board" the boat at Skjervøy, that is only a short trip from Tromsø. We offer this trip between November to February.
Price pr day: 2500 NOK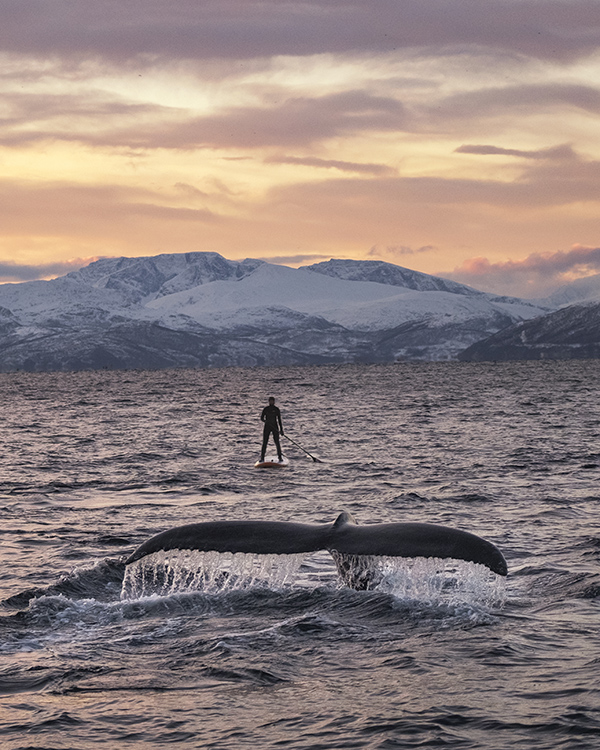 The price includes a bed on the boat, food made by the crew, whale watching trip, northern light guide
and possibility to join us on a SUP-trip with the whales and much more.
We will provide you with sailing clothes and wetsuits.
We recommend you to stay 2 days or more on the boat to be able to have enough time to experience it all.
Contact us for more info.
We recommend wearing:
* Long underwear (fleece, wool, merino)
* Comfortable clothing to stay on the boat (wind protected)
* Warm jumper/jacket
Max passenger number: 4
Please know that:
You have to be 12 years or older to enter the water.
It always depends of the whales and the weather if we can enter the water by SUP board.
To be able to enter the water on a SUP board you need to be able to swim and stand on the board.